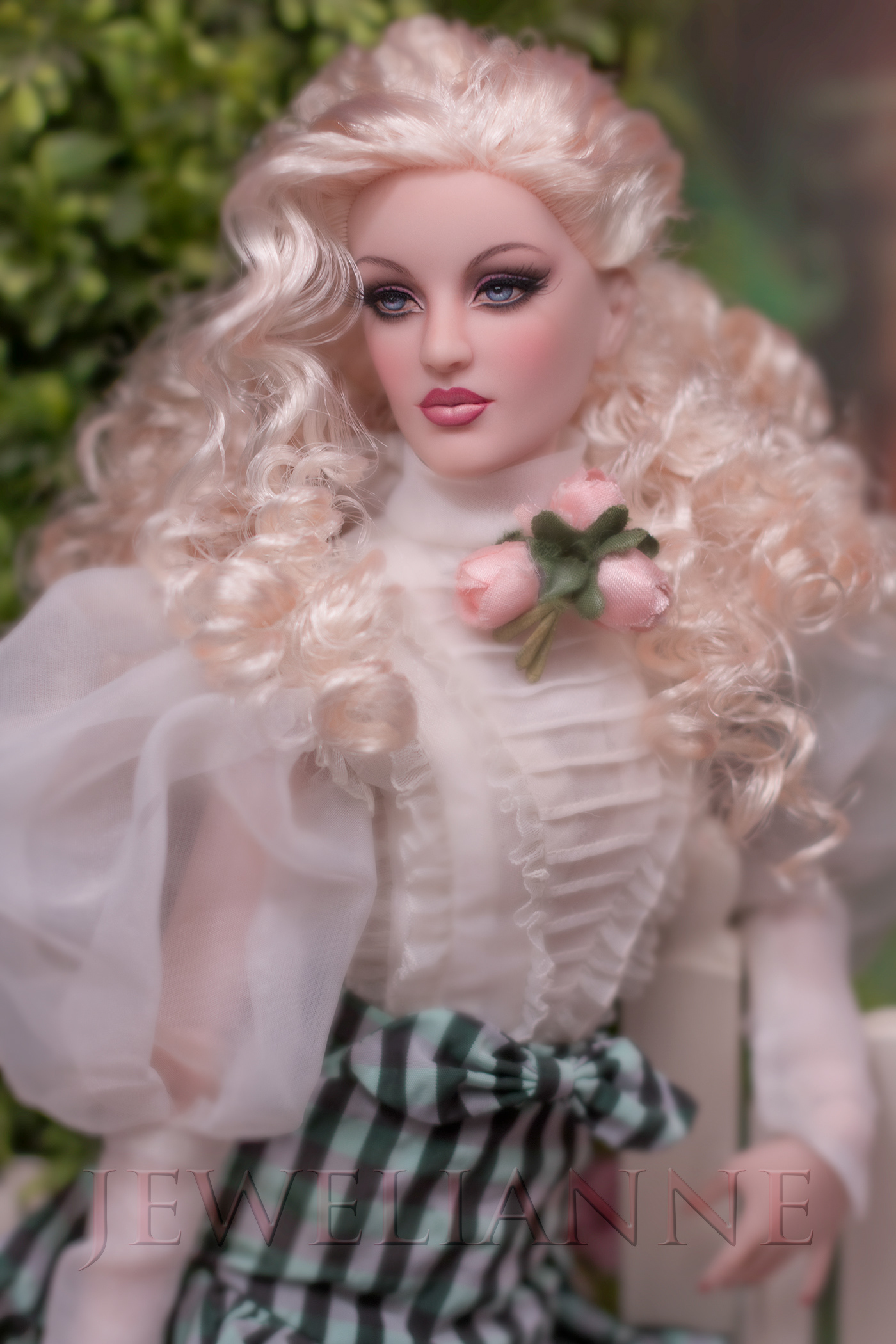 Cameo does modern looks too, even 70's boho style!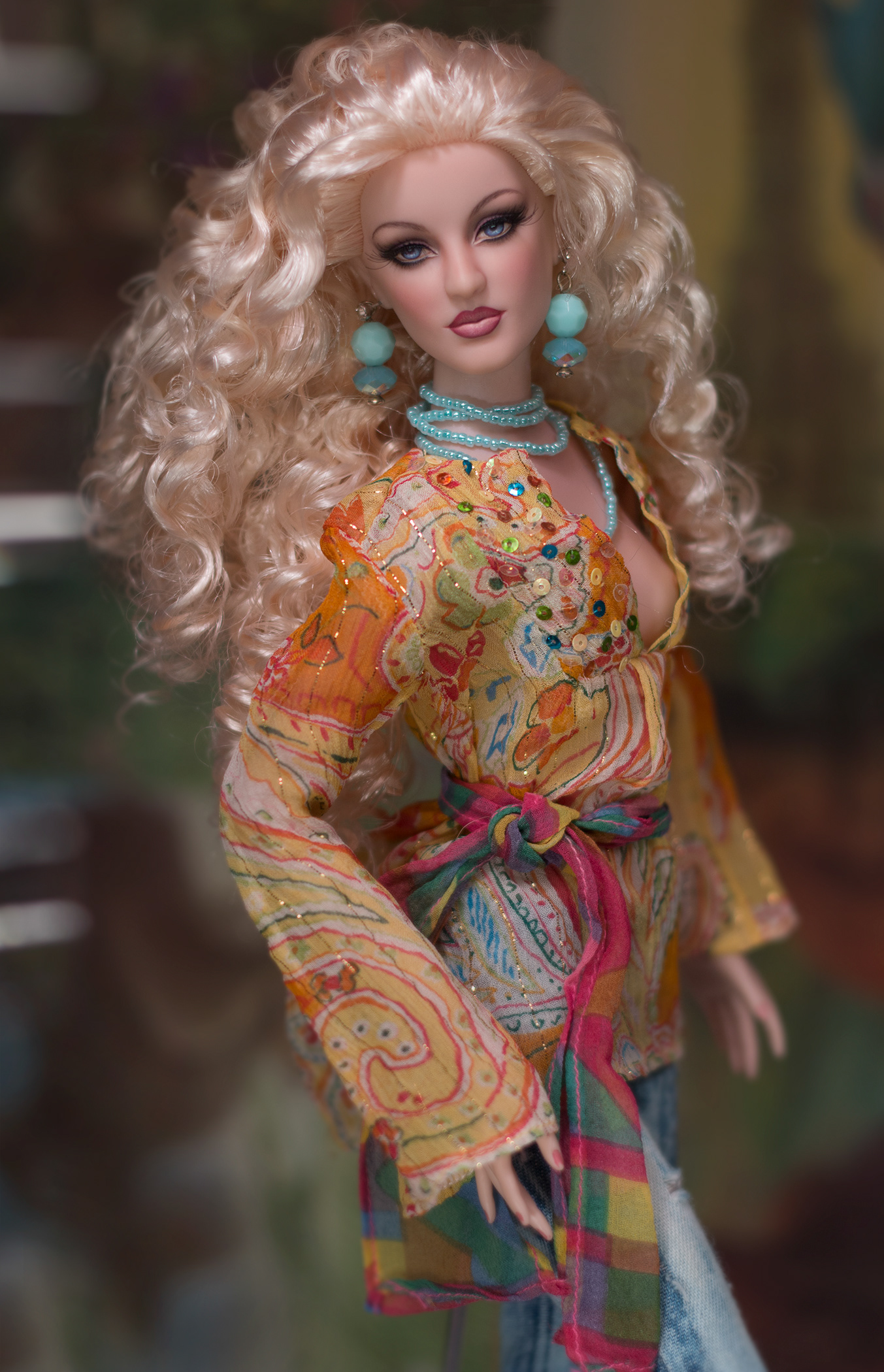 Photos below show the "Cake" ensemble that is included on the doll. It includes: the one-piece teddy with two attached long chiffon train pieces, stockings that are attached by garters; shoes; and the flower shown in her hair in two of the above photos. It will be pinned in place in her hair. Unless otherwise requested. 
The bands that are on the teddy at the shoulders and on the shoes are in very good condition. They do age however, and should be handled very carefully.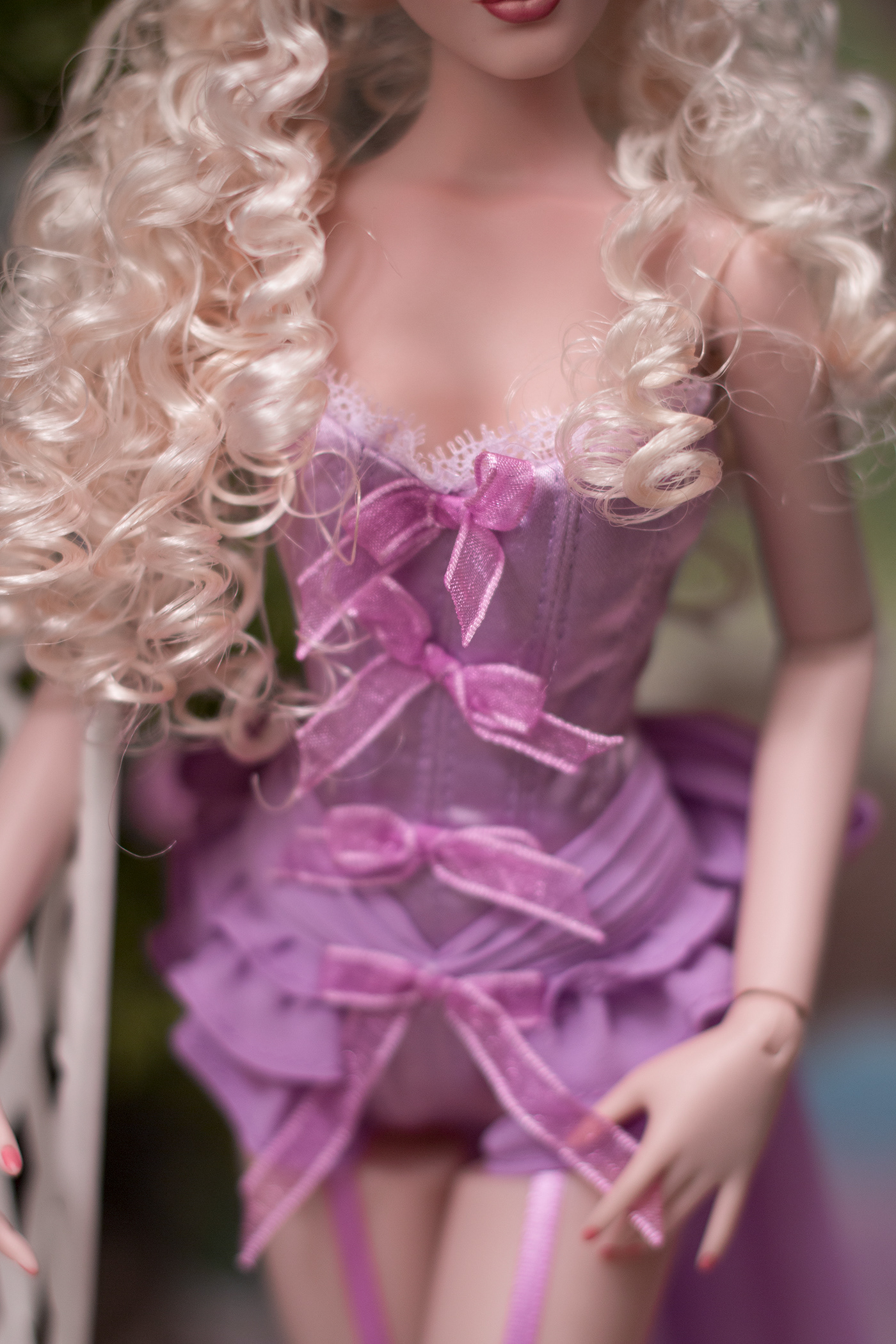 Introducing...  Miss Cameo!  
Jewelianne repainted Tonner Doll Convention doll "Cake". 
Her gorgeous lavender colored ensemble is included!
"Cake" was purchased new in the her tube, used only for this repaint, and to model in these photos. Her left arm has a very faint reddish mark on the inside of her upper arm. Please review the photo showing the small mark circled. 
• She is signed by Robert Tonner of the Tonner Doll Company (and certainly so missed the company is) just behind her right ear.
• Body is an Antoinette style fashion body with bending-wrists. Please ask for more photos if you are unfamiliar and need more information.
• Her hair is a very, very light platinum blonde that sometimes appears pinkish in photos! Her hair was carefully taken down from its original style. I will clip part of her hair up and leave the other part down to simulate the original style and pin the flower to her head unless it is requested to leave it off. 
​​​​​​​
• Eyes are a cool blue with painted lashes and applied false eyelashes.
• Eyeshadow is grey, rose and ivory with a few glimmers.
• Lips are painted cherry rose with sparkling highlights.
• Fingernails and toenails are painted a soft cherry rose shade.
• Simple painted breast enhancement on this doll due to the nature of her predetermined sculpt. Please email me if you would like photos. Thank you.
• Her chest has been blushed and sprayed with MisterSuperClear resin sealer. This creates a beautiful compliment to the face which is also sprayed the same way to create a porcelain-like matte finish. Please take care not to scratch the sprayed surfaces. This is a collector's piece of art to be handled with care. Thank you very much.
• Tonner Dolls' "Cake" complete ensemble is included. Comes with the one-piece teddy with attached stockings, shoes, (there is no jewelry) and the flower which will be pinned in place as shown when she is wearing her ensemble. With care, it can be removed when desired. Please review the photos showing the ensemble and doll wearing flower. If you prefer the flower left off please let me know.
• No other clothing, accessories, jewelry, or props are included. 
​​​​​​​
Shipping- US $25  International $65​​​​​​​
All sales are final. No returns. Thank you.